South African real GDP growth was pulled down to 0.5 per cent in 2016 as inventory reduction sapped growth, while final sales jump 1.2 per cent, official figures have shown.
The United Nations System of National Accounts, the international hand book for national accountants, states that a reduction in inventories should subtract from gross domestic product (GDP) growth.
But for many economists, final sales exclude the change in inventories, as these changes are the inter-temporal balancing item between production and expenditure, give a better idea of the strength of demand.
Statistics South Africa (Stats SA) said that that due to production losses in the coal, gold and platinum mining sectors, export demand had to be met from inventories.
This normally means that production should rebound in the following period as inventories are rebuilt and to meet increased demand.
Arthur Kamp, an economist at Sanlam Investments, told The BRICS Post that the poor performance of South Africa's real GDP in the fourth quarter was clearly flagged by the weakness in manufacturing and mining production through the final quarter of last year, but prospects for 2017 were looking good.
"Ultimately, it was the collapse in inventories, which accounted for the weak total expenditure print and helps to explain the weak manufacturing production numbers," he said.
As the level of commercial and industrial inventories relative to GDP is currently low, this suggests a production response is likely if final demand continues to grow.
Indeed, the PMI manufacturing data released for the first two months of 2017 already suggests better manufacturing production conditions.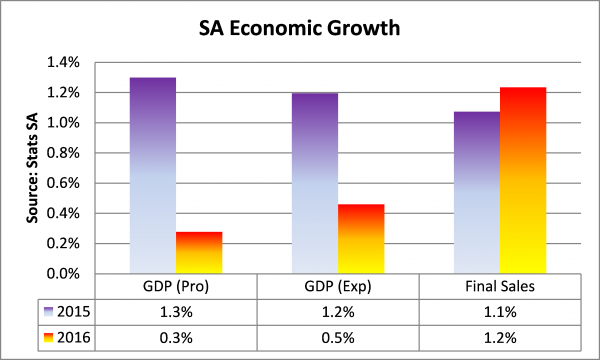 "Looking ahead it is reasonable to assume firmer real GDP growth in 2017. The prospect of lower inflation should also provide some support for households' real personal disposable income, although tax increases announced in this year's government budget will erode some of this potential support" he added.
Kamp's view is further supported by the improvement in the South African Reserve Bank's leading business cycle indicator, which has lifted significantly in the latter half of 2016, following a 5 year decline.
John Loos, an economist at First National Bank, says that the real growth in wages had supported household consumption expenditure (HCE) in 2016.
Although the total Compensation of Employees number saw its year-on-year (y/y) growth slow slightly, from 8.1 per cent y/y in the third quarter to 7.0 per cent in the fourth quarter, this rate remains faster than the 6.8 per cent nominal GDP growth rate, as it has done for most of the time since around 2008.
Loos explained that means that for 2016 as a whole, Compensation of Employees as a percentage of GDP rose further to 53 per cent, from 52.48 per cent in 2015 after a multi-year rise from 47.6 per cent in 2007.
"Real HCE growth accelerated noticeably in the second half of 2016, ending the year on a y/y growth rate of 1.3 per cent, which was well above the 0.5 per cent growth rate for expenditure GDP," Loos told The BRICS Post
A noteworthy improvement in semi-durable consumption, with Stats SA making mention of clothing and footwear expenditure as a key contributor, played a role in this.
"Durable consumption remained in the doldrums, but its rate of decline had been diminishing, and given the stability in interest rates since March 2016, this consumer category could contribute significantly more to consumer spend growth in 2017," Loos added.
Mike Schussler of economists.co.za said that households had been under pressure in 2016 as inflation jumped, but there should be a turnaround in 2017.
"There is no doubt that most consumers were under pressure for most of 2016 and parts of 2015. However, as 2017 salary increases will be based on higher inflation in 2016, the real declines should disappear as soon as the annual salary increases are implemented from March / April and the months that follow," Schussler said.
Helmo Preuss in Pretoria for The BRICS Post